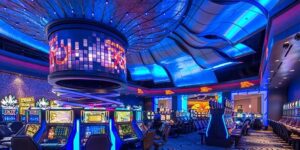 The casino industry has developed a great deal over the past decades. This has seen some countries building the biggest casinos in the land based casino industry. However the reason has been to keep gamblers in the building for the longest time with all the entertainment they need.
Winstar World Casino the Biggest Casino in the World
According to gambling360, Winstar World Casino is number one of the biggest casinos in the world found in Oklahoma. This casino is said to have gaming space seating on 600 000 square feet. This giant casino consists of 7 000 plus gaming machines, 100 table games, poker room for non-smokers and a huge bingo hall that accommodates 800 players.
Venetian Macau
Located in Macau the Venetian Macau is also among the biggest casinos in the world. It takes the crown for being the second biggest casino in the world. The 546 000 square feet is in the region of south China. The casino and hotel has 39 stories and is considered the 7th largest building in the world with a total of 10.5 million square feet of overall space.
Moreover it consists of four themed gambling spaces, over 6000 slots, 800 gaming tables and it can accommodate up to 15 000 guests.
City of Dreams, Macau, China
The City of Dreams casino is just opposite the Venetian. Though slightly smaller, it has 420 000 square feet of gaming space. There are over 1 500 machines, 450 gaming tables, four hotels, four spars, lots of boutique shopping and 175 000 square feet of retail space.
Foxwoods Resort and Casino
Located in the USA the casino has 340 000 square feet of gaming space available with six different casinos. To add on to the resort hotel are 250 tables and more than 3 400 slot machines. According to cinemacasino online casino, it also features 80 golf courses from across the world and additional games as well.
With land based casinos keeping up with the current trends one can never be bored if you happen to visit one the biggest casinos in the world.