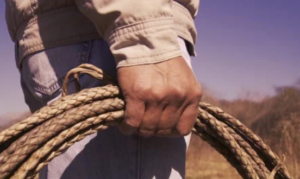 When Neal Wanless was 23 years old, things were looking bad for him. Down on his luck, the cowboy had fallen behind on his property taxes, was unable to make basic repairs to his ranch, and was selling scrap metal to make ends meet. Todd County, South Dakota, was one of the least prosperous areas in America, and he was one of its poorest ranchers.
He had even been considering selling part of his land and ranch in order to make ends meet. Although he wasn't sure he would be able to find a buyer given that many ranchers were in the same boat as him in South Dakota
Neal spent a little of his hard-earned cash on a Powerball ticket while he was on a feed run to a nearby town which ironically was called "Winner". Using family members' birth dates, he selected five plays for $5. He figured he didn't have much to lose and $5 wasn't going to save his ranch, but winning a Powerball jackpot certainly could.
A record-breaking Powerball jackpot was won by him as a result of that risk. In the end, the lump-sum payment came to $88.5 million after taxes. He said he would have even been happier with a much smaller amount as he never dreamed he would win such a large amount of money.
In addition to working his ranch, Neal Wanless plans to use part of the funds to help others in his community. Wanless' ranch is located in a town where people help one another, according to Mayor Timothy Grablander. Neal's said that he knows that if other townsfolk had won the lottery, they would have helped him out too, so there was no hesitation on his side to help his fellow ranchers.