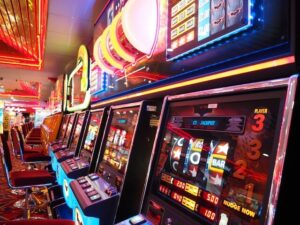 International Game Technology (IGT)'s Megabucks online slot is a popular linked version of their famous Megabucks slot machine. With this slot, multiple machines merged their revenues to create one huge jackpot.
There have been scores of exceptional players who have won millions of dollars playing Megabucks over the years. The weekend break in Las Vegas that would remain in the memory was that of an anonymous 25-year-old software engineer from Los Angeles.
During the 2003 college basketball March Madness tournament, our anonymous hero was visiting family and friends in Sin City. He was staying at the Excalibur Hotel. He gambled $100 on the Megabucks machine on advice from his uncle, who said the jackpot was 'ready to blow'.
He became richer by $39,713,982.25 seconds later. Megabucks slot machines are found in Nevada in more than 700 locations. The jackpot starts at $10,000,000.
Megabucks Slot
Megabucks is likely the most famous slot machine in the world today, created by International Game Technology. In Las Vegas and other Nevada casinos operated by IGT, smaller versions of the same jackpot are also available. Almost all Macau casinos have it as well.
There is no doubt that this is the world's largest jackpot slot, and it was the first one to link machines from multiple casinos to generate the largest payout.
Several minor variations are present in the 5 reel Megabucks game. The first type of progressive is the mini progressive, which is categorized into minibucks, minorbucks, majorbucks, and maxbucks. A progressive jackpot symbol transforms into a gold bar when you land two or more on a spin. When two or more are hit on a single spin, the prizes range from $10 to $500. Each spin of the reels increases the prize for hitting these prizes, the longer the prize goes unclaimed.