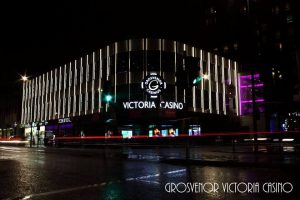 Grosvenor Victoria is a modern, chain casino – in fact, one of 55 owned by Grosvenor Casinos in major town and cities throughout the United Kingdom – in Marylebone, a fashionable residential area in the West End of London. Established in 1970, the Grosvenor Victoria has the distinction of being one of the oldest casinos in the country and, with a casino floor covering in excess of 71,000 square feet, is the largest casino in London, by square footage. It's a great UK based alternative to the best real money online casino out there.
The majority of the gaming tables at the Grosvenor Victoria are devoted to roulette and blackjack, but baccarat and craps are also available, along with other, less popular games, such as casino war, super stud poker and three card poker. Patrons who prefer their gambling in electronic form can choose from over 100 slot machines and automated roulette machines.
The Grosvenor Victoria, affectionately known as 'The Vic', also has the distinction of being the 'home' casino of well-known television presenter, writer and professional poker player Victoria Coren Mitchell, who remains the only person to have won two main events on the European Poker Tour. Coren Mitchell regularly plays cash games at her namesake casino, but the Grosvenor Victoria Poker Room caters for beginners and 'recreational' players, as well as more serious players. With a minimum buy-in of £40 and blinds starting at £1, cash games are available to suit all pockets.