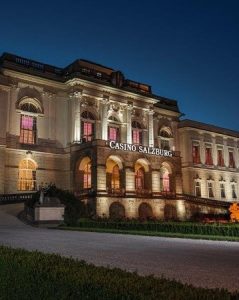 The central Austrian city of Salzburg, near the German border, is probably best known as the birthplace of Wolfgang Amadeus Mozart and the setting for the Rogers and Hammerstein musical 'The Sound of Music'. However, from a gambling perspective, Salzburg – or rather Wals-Siezenheim, two-and-a-half miles west of Salzburg – has, since 1993, been home to Casino Salzburg.
Casino Salzburg is housed in Schloss Klessheim, which originally dates from the turn of the eighteenth century and is a fine example of the Baroque architecture for which Salzburg is renowned. However, beyond the impressive exterior, guests can find a modern, recently restored, renovated and redesigned casino floor.
Various gaming areas, which collectively cover about 25,000 square feet, or just over half an acre, incorporate 30 or so gaming tables. Poker, including two variants, known as 'Tropical Stud' and 'Easy Hold'em', which allow players to bet against the bank, rather than each other, is very much in evidence, with 11 tables in total. So, too, are blackjack and American, double-zero roulette, but baccarat and punto banco are also available. Electronic gaming machines and slot machines are plentiful, with over 200 to choose from.
Visitors should be aware that they will be required to produce a passport and pay a fee – at the time of writing, €30 – to enter Casino Salzburg. However, the €30 cover charge is, effectively, refunded in the form of casino chips or a slot machine card.