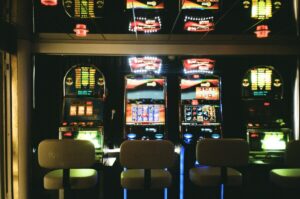 I enjoy nothing more than going to a casino with friends and family for some carefree (yet measured!) gambling. In fact, it's something of a family tradition for a group of us family and friends to try our luck at the local coastal casino a couple of times a year. None of us go completely crazy, and it's fun to share stories at the end of an eventful night. Inevitably some of us have lost money, while others have had the luck of the devil and just didn't put a foot wrong all night long. This can be true regardless of the casino game in question. I've personally had some mindbogglingly fortunate nights playing roulette where it just seems that whatever decision made is destined to be the right one. Other friends of mine have had swings of fortune, both good and bad, on three card poker.
Of course though, currently 'going to the casino' is much easier said than done and so attention turns more and more to the many online casino options out there. One of the big plus points in my view of online casinos is that they all share a virtual space together and so are only a click away. This proximity makes for a highly competitive approach between them all, where generous offers and incensitives are used to draw in new customers. It's not uncommon to see a deposit match style casino bonus of significant value – which means that you're already well ahead from the start. Admittedly there are often some waging requirements attached, but when you combine the bonuses on offer, with free slots spins, existing member benefits and the like too, these freebies all start to add up.
Another very important online factor is convenience. It's so straight forward, day or night, week or weekend to take some time out from a
hectic day and have a little 'me time' by playing your favorite online casino games. Peronsonally I'm a big fan of the endless slots options out there. There are so many different slots themes, with new and exciting games frequently being added and of course they can often be combined with the aforementioned 'free spins' style bonuses that are offered by the best casino sites. These tried, tested and trusted sites also offer a myriaid of other much loved casino games such as roulette, poker (three card, texas- hold'em, carribean, video poker etc), blackjack, craps, baccarat and more.
So while 'bricks and mortar' casinos clearly have their place, the world being as it is and with rules and regulations changing by the day I've appreciated more than ever the convenience of playing roulette or slots in the comfort of my own home. In my view it's easier to track and regulate your spend online when compared to a wild night in a casino with friends, and combined with some of the appealing online casinos bonuses that are out there, trusted online casinos really are the virtual 'place to be'.