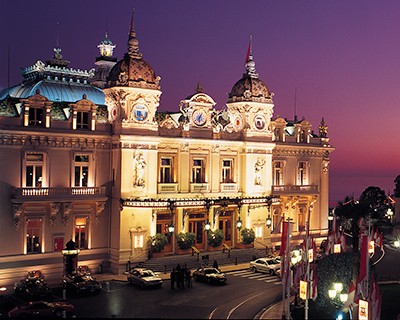 The Casino de Monte Carlo is located towards the western end of the Monte Carlo Quarter, one of the four districts of the Principality of Monaco, on the French Riveria. Monaco is a tiny, independent city-state, known as a 'Billionaires' Playground', but it is illegal for citizens Monaco gamble, or even work, in Casino de Monte Carlo. Consequently, despite its Belle Époque style and grandeur, the building is solely a tourist attraction.
Nowadays owned and operated by the state-controlled Société des Bains de Mer (SBM), Casino de Monte Carlo was founded by French entrepreneur François Blanc – later dubbed the 'Wizard of Monte Carlo' – in 1863, at the behest of the royal family of Monaco. Although richly decorated, Casino de Monte Carlo was designed as a gambling house right from the start.
These days, more 'mundane' table game offerings include blackjack, craps, roulette and Texas hold'em poker but, if you want to feel like you have stepped into the pages of a James Bond novel, you could always try your hand at chemin de fer or punto banco, a.k.a. North American baccarat. Away from the gaming tables, Casino de Monaco also offers over 1,000 slot machines, arranged row-by-row in the 'Salle de Renaissance' or the 'Salle des Amériques'; despite the opulence of the surroundings, stakes start at just €0.01 per line, in some cases.