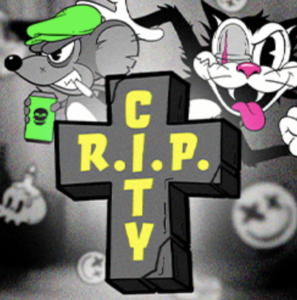 The world of online slots is a competitive one with 100s of game studios vying for the attention of a hungry crowd of game fanatics. Competition is pushing the industry to create ever more exciting products and two developers at the top of their game right now are Nolimit City and Hacksaw Gaming.
Both are kicking out clever, humorous, and innovative games like Walk of Shame (Nolimit City) and Pug Life (Hacksaw) on what feels like an almost weekly basis right now. But we think we might have spotted the first signs of needle between the two suppliers.
And here's why.
When loading up the first Hacksaw release of the year, RIP City, we were a bit perplexed by the origin of the game's offbeat name. We searched for a back story in the game info screen but couldn't find one. After all, this is a slot with a narrative built around a 'backalley Tom and Jerry' as one slots affiliate puts it, a tomcat called Ro$$ and his cigarette-smoking nemesis, Max. No one dies, as far as we know. And in truth its more comic book capers than horror stories.
So, what is RIP city? Why such a dark title? Could it be that Hacksaw are taking aim at their Swedish rivals, suggesting they are in the ascendancy and ready to take Nolimit City's crown as the ultimate high variance slots specialists? Or could there be an innocent explanation?
We don't have any contacts at Hacksaw so perhaps we will never know whether there is any truth in the idea. But wouldn't it be fun if a war was brewing between these two young upstarts in the slots world.
Imagine if Nolimit City were to build a comeback slot. Surely something menacing and horror-driven would be on the cards involving (of course) hacksaws, chainsaws and guns no doubt. Remember, these are the guys who delivered the insane asylum-themed Mental, and the dark Wild West epic, Tombstone RIP.
And you can bet your life Hacksaw could hold their own too in a roasting battle! Their recent Rotten high variance game is as dark and deadly as anything we've seen in a long while.
Whatever the truth is, you can bet your life both studios will be pushing out some of the best slots of the year in 2023. So, for now pay attention and see if you can spot any niggle between the lines!