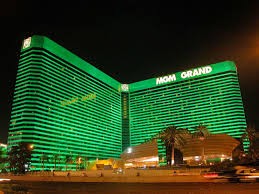 Although superseded as the largest hotel complex in the world by the First World Hotel in Malaysia and the Venetian, also on the Las Vegas Strip, the MGM Grand remains the largest single hotel in the United States. Built as an extension to the 700-room Marina Hotel – which forms the 'West Wing' of the current hotel – in 1991, the MGM Grand opened in 1993.
Situated at the intersection between Las Vegas Boulevard and Tropicana, the entrance to the MGM Grand is guarded by the unmistakable figure of 'Leo the Lion', the mascot of the Metro-Goldwyn-Mayer (MGM) film studio. The huge, 45-foot bronze statue replaced the original entrance in the Nineties, after many superstitious Asian visitors refused to enter the casino through the jaws of a lion, as was previously the case.
In any event, the MGM Grand has a casino floor covering 171,500 square feet or 1.59 hectares – in other words, larger than Lords Cricket Ground – making it the largest in Las Vegas. Table games include baccarat, blackjack, craps, roulette – in both European, single-zero and American, double-zero versions – and several poker variants, such as crazy four poker, pai gow poker and three card poker, as well as Texas hold'em poker. The MGM Grand also offers an extensive selection of electronic gaming machines, including slot machines and video poker machines, with stakes ranging from £0.01 to $1,000.